Great news!
The DCLT is ending 2019 on a high note as we welcome our new Executive Director, Julie Early. As you know, Katherine Garofoli accepted a position with the Buzzards Bay Coalition – and we're very pleased to welcome Julie to the DCLT.
She brings experience and enthusiasm to the job, and we can't wait for you to meet her. Julie has worked with several environmental non-profits in the northeast, and most recently has been working with The Compact of Cape Conservation Trusts in Brewster, helping land trusts on the Cape draft conservation restrictions, apply for state tax credits, and support land conservation efforts.
Julie joins the DCLT on December 9, and will lead the day-to-day activities of the Trust. She will also continue her part-time land management work with The Compact.  Julie will be in the office three days a week, along with our Outreach and Stewardship Coordinator Tyler Maikath, AmeriCorps member Kelsey Leahy, and Janice Backus, new administrative assistant. And of course, we'll look to our incredible cadre of volunteers to continue to support us.
DCLT President Joe Masse noted, "Julie Early's background in conservation, land management, public policy, and science education, as well as fundraising and grant-writing, makes her uniquely qualified to lead the DCLT in the coming years. We are delighted she is joining us."
Please help us welcome Julie to the DCLT.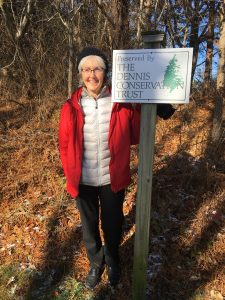 (Dec. 2019)