ANNOUNCING:   The DCLT Fall 2021 Newsletter
We hope you will enjoy reading about the Summer Auction, Upcoming Events, Research on Coastal Resiliency by our Summer 2021 Virtual Interns Avalon Swanson and Karina Zimmerman; stories of a few of our lands, and upcoming events.
Click here to download a copy of our Fall 2021 Newsletter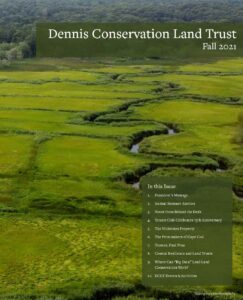 The 2020 Duck Race Fundraiser began October 25th and is just finishing up!  Thank you for joining us in celebrating virtually this year, and we hope to see you next fall at the 2021 Duck Race in person! Happy holidays!
For a Duck Donation click here:

     Or mail a check to:  DCLT, PO Box 67, East Dennis, MA 02641
And to Join/become a Member click here:    
A BIG THANK YOU TO OUR SPONSORS:
AAA – South Dennis
All Cape Fence
Bass River Marina
Blossoms
Brother's Pizza
Cape Cod Picture Framing & Restoration
Cape Sand & Recycling
Captain Frosty's
Chapin's Bayside
Dennis Memorial Library
Dennis Public Market
Dennis Natural Resources Department
Dennis Water District
Dr. Robert Creeden, DMD
Dr. Mario Zacharatos, MD
Dunkin Donuts
Elburne
Freedom Boat Club
Graham Financial
Inland Sea Windsurf Company, Inc.
Jacob Sears Library
Janine B. Sportfishing, Inc.
Kate Byron Real Estate
Lost Dog
Martha Murray
McDevitt Realtors
McPhee Associates
MD VIP
MidCape Home Centers
Monroe Motors
Nancy's Candy
New Image Hair Salon
Oceanside Pool
Puzio Eyecare Associates LLC
Rotary Club of Harwich & Dennis
Scargo Cafe
Sesuit Landscaping
Specialty Builders' Supply, Inc.
Stage Stop Candy
Starboard Side Landscaping
Steele Associates Real Estate
Stonewood Products
Thacher Realty
Tomasetti Plumbing & Heating
Village Coffee Shop