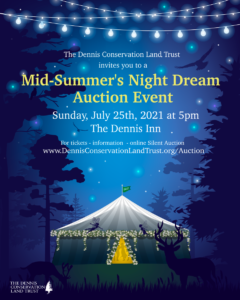 HOLD THE DATE for the DCLT SUMMER AUCTION:  
SUNDAY, JULY 25, 2021
The DCLT Summer Auction Planning Committee is actively planning this year's Summer Auction.  We are hopeful that by this summer, we will be able to hold a hybrid in-person event, with some logistics handled online.  As the summer approaches, we will make a final decision based on recommendations from the federal Centers for Disease Control (CDC), the Massachusetts Governor's office, and the Town of Dennis. We will keep you, our Members, Friends and Sponsors update on our plans as the time approaches.  We miss you, and hope to see you all in a few months time!
With best wishes,
Trustees and Staff of the Dennis Conservation Land Trust
~~~~~~~~~~~~~~~~~~~~~~~~~~~~~~~~~~~~~~~~~~~~~~~~~~~~~~~~~~~~~~~~~
THANK YOU TO OUR
2020 ONLINE AUCTION SPONSORS
AND
2019 SUMMER AUCTION SPONSORS!
A3 Architects, Inc.
Adam in Chatham
Annie's Crannies
Aquaculture Research Corporation
Ardeo Café and Catering Co.
Auction Knights/JWT & Associates
Bankok Thai Cuisine
Barbo's Furniture
Barnstable Harbor Ecotours
Barry's Gift Barn
Baskin's ACE Hardware
Bernie & Phyl's Furniture
Blossoms of Cape Cod
Bonsai Logic
Borsari Gallery
Buncey's Pizza
Café Alfresco
Cake & Islands
California Nails
Cape Abilities Farm
Cape Cinema
Cape Cod Five Cents Savings Bank
Cape Cod Museum of Art
Cape Cod Museum of Natural History
Cape Cod National Golf Club
Cape Destinations
The Cape House, Katie Clancy – William Raveis Real Estate
Cape Kayaking
Cape Playhouse
Cape Sand & Recycling
Cape Symphony
Cape Tradewinds
Capt. Wayne Bergeron, Janine B. Sportfishing
Cardi's Furniture
Cartwheels Go Kart
Chatham Bars Inn
Clancy's Restaurant & Tavern
Coastal Maine Botanical Garden
Conway Scenic Railroad
The Cooperative Bank of Cape Cod
Dr. Robert Creeden, DMD
Dr. Frank Dahlstrom, DMD
Davio's Northern Italian Steakhouse
William R. Davis
Dennis Council on Aging
Dennis Cycle Center
Dennis Equipment Co., Inc.
Dennis Fire Department
Dennis Public Market
Devil's Purse Brewery
Dennis Inn
The Dog House
e2 Solar, Inc.
East Dennis Oyster Farm
Ebb Tide Restaurant
Eden Hand Arts
E.J. McGrath Insurance Agency
Elburne Home Décor
Ember
Encore Bar & Bistro
Encore Construction
Entertainment Management Cinemas
ERA-Cape Cod, Dick Martin
Eventide Theater
Fein Things
Firestarter Pizza
Fleeting Moments Photography
Fresh Interiors
Fritz Glass
Fromage a Trois
Geradi's Café
Gibson Sotheby's International Realty
• Peter and Elain Lomenzo
• Lisa Griffin
Gina's By The Sea
Hairworxs
Hall Oil Co., Inc.
Hallett Funeral Home
Hammersmith Farms
Hart Farm Nursery & Garden Center
Harvest of Barnstable
Harvest Gallery & Wine Bar
Jody Hassett Sanchez
Joseph Carr Wines
Home Depot
Home Goods
Honey Dew Donuts
Hubbard Paint
Hyannis Whale Watcher Cruises
Inaho Japanese Restaurant
Inland Sea Windsurf Co.
Institute of Contemporary Art
Jeremy's Barber Shop
Joey's Pizzeria
Joly, McAbee & Weinert Real Estate Services
Kate's Seafood, Kathy & John Ohman
Kelly's 134
Kreme 'n Kone
E. Lambton Landscaping, Inc.
Law Office of Singer & Singer, LLC
Law Offices of Kathleen Fowler, Esq.
Linda Burke Studio
Lobster Roll Cruises
Mashantum Tennis Club
McPhee Associates
The Mercantile
Mermaids of Cape Cod
Merrill-Lynch Wealth Management – The Driscoll Group
Mill Stone Pottery
Monroe Motors, Inc.
Muddy Creek Honey
New England Aquarium
New England Art Gallery
New Image Hair Salon
Ninety-Nine Restaurant
Ocean House Restaurant
Old South Dennis Village Association
Optimist Café
O'Shea's Old Inne
Pet Smart
Pirate's Cove Adventure Golf
Pugga Associates
Puzio Eyecare Associates
Red Cottage Restaurant
Red Nun
Rory's Market & Kitchen
Quivet Cellars
Quivet Neck Homeowners Association
William Raveis Real Estate
RE Brodeur Printing
Red Cottage Restaurant
Rory's Market & Kitchen
Ross Coppelman Goldsmith
Route 134 Auto Care
Route 28 Diner
Royal II
Salon Justine
Salt Yarn Studio
Salty's Restaurant
Sam Diego's
Sativa
Scargo Café
Scargo Pottery
Scout Vintage
Sea Dog Brew Pub
Seaside Design
Sesuit Neck Property Owners Association
Shampoo Hair Salon
Sharky's Beach Shop
Shaw's Market
Shorefront Consulting
Smith's Time Shop
South Street Depot
Spinnaker Restaurant
Stage Stop Candy
Starlight Lodge
Stonewood Products
Stop & Shop
Strike Zone Logic
Summer House Natural Soaps
Thai Ocha Café
The BARN & Co.
The Pheasant
Town of Dennis Golf
Treat's Catering
Unfinished Business of Cape Cod
Viera
Village Coffee Shop
Whydah Pirate Museum
Williamstown Theater Festival
Yarmouth House
Zannotti's Gelato
~ ~ ~ ~ ~ ~
WE HAD FUN WITH OUR 2020 ONLINE AUCTION AND
HOPE TO RETURN TO OUR IN-PERSON AUCTION in 2021
Your support is deeply appreciated and critical to the Trust's land preservation work.
The Dennis Inn – July 2019