Annual Auction
"Fun"raising for a great cause!

Join us for the summer celebration you won't want to miss – our Annual Auction fundraiser!
Each year, 200 guests gather for an evening of delicious food, drink, and entertainment to support the DCLT's mission to protect the very best of Dennis. The event alternates each year between the Dennis Inn on the northside of town and the Sea View on the southside of town.
The evening culminates in a fast-paced, lively auction led by our favorite auctioneer, Mr. John Terrio. Participate for your chance to bid on a variety of unique items you won't find anywhere else. From exclusive dinner parties with local master chefs, to weeklong getaways to far-flung corners of the Earth, you won't want to miss your chance to bid.
Can't make the event? Not to worry. Each year we reserve a variety of packages for online bidding only. The best part – participation is free and available to anyone, anywhere.
Donate an Item
Our auction depends on items and experiences generously donated by member individuals and local businesses.
Have a creative talent to share? An item to donate? A timeshare worth… sharing? If so, we greatly appreciate your help and will promote your generous support. Please contact us today.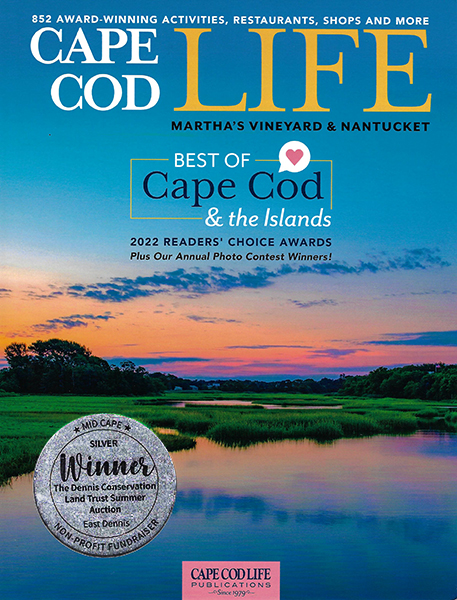 Business Sponsorships

The success of our annual auction is greatly bolstered by business sponsorships. Not only will your sponsorship support our mission to protect the town we love, but we will help your business by advertising your support. Explore sponsorship options below.
Bronze ($250)
 Business logo posted on our Auction Website, eighth page ad in the auction booklet, and recognition in an email blast to our >1,500 contacts following the event.
Silver ($500+)
Bronze perks, but a quarter page ad in the auction booklet plus two free tickets to the auction.
Gold ($750+)
Silver perks, but a half page ad in the auction booklet plus a special social media shoutout to our audience of >2,000 followers.
Platinum ($1,000+)
Gold perks, but a full page ad in the auction booklet, four free tickets to the event, VIP parking, and your business logo listed for one year on this page.
* Please note that in order for us to promote your business sponsorship, we require that you email us any digital business cards, logos, website URLs, or other information necessary for advertising.
2023 Platinum Sponsors

AUCTION NEWS & PAST EVENTS