Duck Race
Family fun for a great cause

Join us after the hustle and bustle of peak summer season for our annual Rubber Duck Race! The event happens in September or October and alternates locations across town. The 2023 Race was held on Weir Creek at the West Dennis Yacht Club!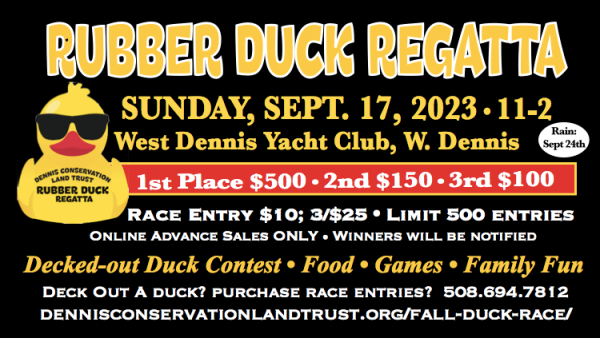 At the start of the event, you'll visit exhibitors' tables, purchase food hot off the barbeque, participate in games and activities for all ages, and cast your vote for your favorite Decked-Out (decorated) Duck.
Once the afternoon arrives, participants gather along the shore to watch the main event – where 500 numbered rubber ducks hit the water to race to the finish. For your chance to win a first, second, or third place prize, be sure to purchase a numbered duck entry ahead of time, before they're sold out.
Participation in the event is free and open to all, so bring friends and the whole family!
Businesses: Deck-Out a Duck
Our Duck Race is supported by local businesses who purchase and decorate a large-sized rubber duck, which are then placed on display at the event for participant voting. First, second, and third place winners take home a prize to share with the rest of your business team. After voting, feel free to take your duck back to business to put your creativity on display.
*For those decorating ducks, please be sure to follow the rules for display dimensions, etc., to be sure you remain qualified to win.
Volunteer and In-Kind Support
Like so much else we do, our annual Duck Race depends on the teamwork of volunteers and support from in-kind donors, who donate time, gift cards, trinkets, and so much more. If you have interest or an idea to help, please connect with us today!
View Past Events