Conservation
What is "conservation" and why should we be concerned with conservation in the town of Dennis and elsewhere?
The word "conservation" according to the Oxford Dictionary means "the protection of plants and animals, natural areas, and interesting and important structures and buildings, especially from the damaging effects of human activity."  The Town of Dennis in it's most recent Open Space and Recreation Plan (2020), states that the Town seeks to balance open space protection with economic development, and partners with the Dennis Conservation Land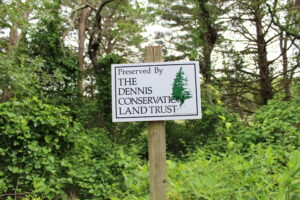 Trust (DCLT) in preserving land along Chase Garden Creek on the northside of Dennis, and Bass River on the southwest side of Dennis.  In addition, the Town and DCLT partner in the protection of Crowe's Pasture in East Dennis, and Paddocks Farm and Princess Beach on Scargo Lake.  The Dennis Conservation Land Trust was formed in 1988 to address the increasing pressure from development within the town, and resulting loss of open space.  Since 1988, the Trust has had as a goal to protect one square mile, or 640 acres of open space, which it achieved in December of 2020.  The Trust will continue to encourage the town and landowners to consider preserving what open space remains, and when possible, restore lands to natural function through a process of "undevelopment."  The DCLT partners with other conservation organizations such as the The Compact of Cape Cod Conservation Trusts, and the Native Land Conservancy in its efforts to conserve, preserve, restore and sustain the lands, waters and cultural sites within the Town of Dennis.
Benefits of Conserving Land – Donation or Sale of Land to the DCLT
Excerpt from Land Conservation Options (UMass-Amherst, MassWoods:  https://masswoods.org/future-my-land/land-conservation-options)
There are many options for conserving land that landowners can consider – whether donating the land with little or no compensation, selling the land at a bargain or at market value price, a bequest, or life estate to name a few options.
We always recommend that you consult your tax attorney and accountants when exploring your options for donating or selling your land to the land trust, and can speak with you about the conservation values of your property and resources the Dennis Conservation Land Trust has to assist you in the initial stages of your planning process.  Call our office at 508.694.7812 and let's begin the conversation!
Placing a Conservation Restriction on Land
A Conservation Restriction (CR) is a legal agreement between a landowner and a conservation organization that permanently, or for a stated period, limits specified uses and development of the property to protect its natural and scenic features.  Landowners are able to lower their property taxes and also allow for the permanent protection of their land with or without providing public access.  The state of Massachusetts also has a program entitled: Conservation Land Tax Credit Program  (MA CLTC) to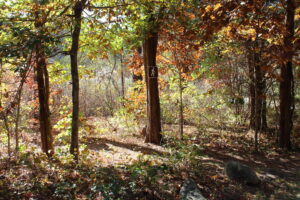 encourage landowners to conserve their land through donation or sale to a land trust or land conservation organization.  Through this program, the state provides donor(s)  a tax credit of 50% of the donation value, up to the $75,000 max, and donors do not have to reside in the Commonwealth of Massachusetts to obtain this benefit.  (Call DCLT to discuss this option, if you are interested in learning more about this state benefit and how this could work for you:  DCLT office – 508.694.7812.)
(Reference:  Trustees of Reservations, 2016 Conservation Restrictions Handbook: https://issuu.com/thetrustees/docs/2016-trustees-cr-landowner-handbook)
Undevelopment
Un-development has become more important in recent years. The Trust has had the vision to recognize these opportunities and will continue to be receptive to exploring them as they arise.
Crowes Pasture, for example, involved the removal of a structure from a knoll, thus returning the site to its natural state. Seaview Playland was a privately owned pitch and putt golf course and amusement area. All of the buildings were removed leaving magnificent rolling terrain, a waterway, small pond, wetland, ocean view knoll and public beach. The property plan was formulated so that the 17 acres and views enhance the enjoyment of all in the area.
Bass River Park benefited from un-development with the removal of the buildings leaving greater access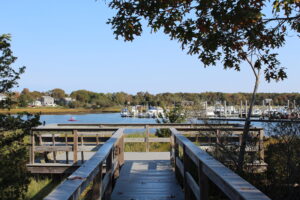 for all to the 500 feet of riverfront that connects with other Town-owned Bass River riverfront areas.
In addition, restoration of wetlands to their natural state and function is an area of focus of the state of Massachusetts through the Division of Ecological Restoration (DER) within the Massachusetts Department of Fish and Game.  Since 2009, the DER has sought "to restore and protect rivers, wetlands, and watersheds in Massachusetts for the benefit of people and the environment."  On Cape Cod, the DER is active in restoring former cranberry bogs to their natural state.  DCLT is exploring options for restoration projects within the town of Dennis.
For more information on the DER: Division of Ecological Restoration