Conservation Restriction
A Conservation Restriction (CR) is a legal agreement between a landowner and a conservation organization that permanently, or for a stated period, limits specified uses and development of the property to protect its natural and scenic features. Land Conservation Options (2001, pg. 31) Conservation restrictions are generally granted to towns or private land trusts. If granted to trusts, they must be approved by both the Town and State of Massachusetts.
On some properties, the Trust spearheaded efforts to have a parcel of land protected by cooperating with the Town of Dennis in the negotiations, providing a portion of the funding, and/or assisting with grants to receive State and/or Federal reimbursements. The Trust then joined the Town as a recipient of a Conservation Restriction as an added layer of protection to keep the use of acquired parcel as it was intended.
Family Properties
In other cases, some families have granted the Trust permanent conservation restrictions that will limit development forever on their properties. By granting this Conservation Restriction, the family has given up the rights to build new homes, and to essentially keep the property as it is. The advantage to the landowner who grants conservation restrictions is that they receive multiple benefits, including reductions in Federal and State income taxes and local real estate taxes, while continuing to own their properties.
Undevelopment
Un-development has become more important in recent years. The Trust has had the vision to recognize these opportunities and will continue to be receptive to exploring them as they arise.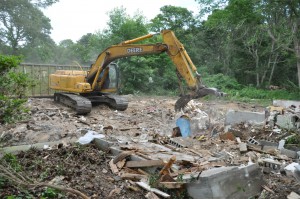 Crowes Pasture, for example, involved the removal of a structure from a knoll, thus returning the site to its natural state. Seaview Playland was a privately owned pitch and putt golf course and amusement area. All of the buildings were removed leaving magnificent rolling terrain, a waterway, small pond, wetland, ocean view knoll and public beach. The property plan was formulated so that the 17 acres and views enhance the enjoyment of all in the area.
Bass River Park benefited from un-development with the removal of the buildings leaving greater access for all to the 500 feet of riverfront that connects with other Town-owned Bass River riverfront areas. The momentum of un-development in some cases is like finding lost art treasures, as behind or under the buildings lies the little bit of "Olde Cape Cod" that so many people have come to seek.