History
Grassroots action to leading organization

The Dennis Conservation Land Trust (DCLT) is now a well-established institution in Dennis and on Cape Cod, but its grassroots origin in the 1980s was far more modest.
In the mid-1980s, fast-growing housing development was rapidly reducing the amount of open space and changing the quaint, historic character of the Town.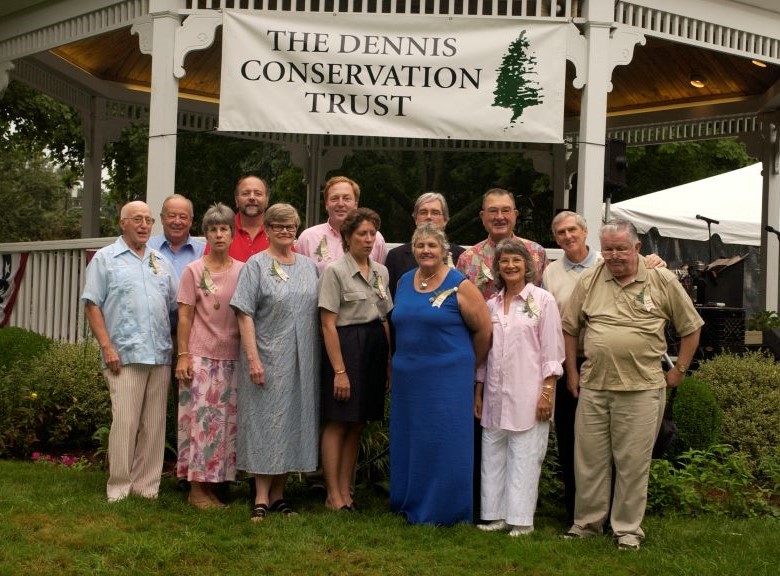 A committed group of conservation-oriented residents coalesced around the threat of proposed development at Simpkins Neck in Dennis Village. They rallied other residents to support the Town's acquisition of the property for conservation. With success, leaders of the group gathered to discuss forming a nonprofit land trust to protect other lands in Dennis, as had been formed in other towns facing similar challenges across Cape Cod.
In the early days, the Dennis Conservation Trust ("DCT"), as it had previously been named, had little money and no name recognition. Our first piece of land came through a donation of property on Route 6A, East Dennis, by the family of Marie Martin and Claire Sears. The second property, on Simpkins Neck, also came as a donation from the heirs of Ruth Colby and Louise Eldred. Our first substantial expansion came in 1994, when the McConnell-Clark Family donated 205 acres of the historic "Black Flats" saltmarsh across Dr. Bottero Road from Chapin Beach.
Today, the DCLT is led by a Board of 18 Trustees with diverse expertise, and a small but dedicated staff. We have been recognized as one of the leading nonprofit land trusts on the Cape, now owning over 100 parcels outright and holding conservation restrictions on 20 others. In 2021, we became one of the first land trusts nationwide to enter into a Cultural Respect Easement, with our partners at the Native Land Conservancy, which provides access to all DCLT lands for Indigenous Communities for traditional cultural practices.
Our work is supported by a large and generous group of donors and volunteers, who have enjoyed participating in our annual summer auction, community-building events, and our environmental stewardship and educational programming. For those of you who have been supporters since our quiet beginnings in the 1980s, you undoubtedly appreciate how far we have come with your help. For those of you who have joined DCLT more recently, stay with us as we approach novel challenges and embark on a new and exciting set of opportunities.
Read our full history, written by DCLT founding and current Trustee, Richard Johnston, here.