History
A Brief History of Dennis Conservation Trust

By: Richard Johnston
The Dennis Conservation Land Trust (DCLT) is now a well-established institution in Dennis and on Cape Cod but its origins in the 1980's was much more modest.
In the mid-1980's at least four factors combined to bring about DCLT.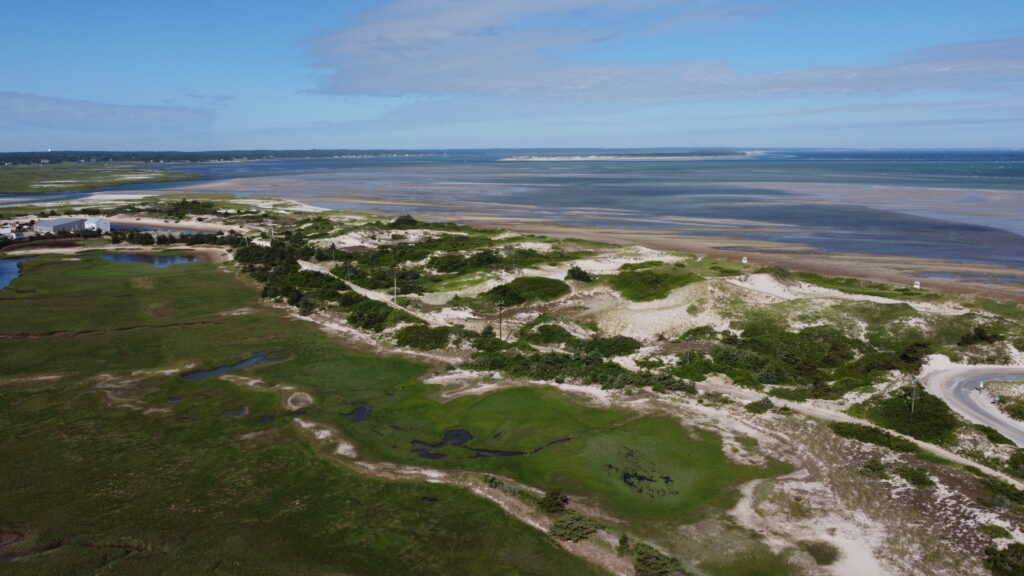 First, fast-growing housing development was reducing the amount of open space in the Town.  Second, Proposition Two and a Half had limited the ability of municipalities to increase taxes for such things as land schools and land acquisition. Third, notwithstanding financial pressures on municipalities, a strong-willed group of conservation-oriented residents of Dennis wanted the town to purchase Simpkins Neck in Dennis Village to prevent a large subdivision in an environmentally-sensitive area.  Finally, Ansel Chaplin of Truro was trying to organize the few existing non-profit land conservation trusts on the Cape into a more formal collaboration.
At some point in about 1986, after I had purchased a home in Dennis, I read an article in a Cape newspaper about a gathering of local non-profit land trusts in Brewster and went to the meeting.  Several existing trusts attended the meeting, chaired by Ansel. This group became known as the Compact of Cape Cod Conservation Trusts.   At the end of the meeting, I told him that I was interested in the land trust idea and asked how I might go about helping to establish a trust in Dennis.  Ansel suggested that I talk to Beverley LeBlanc, a recognized advocate for land conservation in Dennis.  When I called Beverley, she was enthusiastic about the idea of a land trust, but that we should wait, because she and other supporters of a Town purchase of Simpkins Neck would not want to confuse the issue with a fund-raising effort for a new conservation organization.
Shortly after Dennis Town Meeting voted to purchase Simpkins Neck, Beverley invited me to a meeting with others who favored the concept of a non-profit land trust to assist with conservation efforts.  The group, about a dozen Dennis-related people of different backgrounds, held its first meeting at the home of Ed Gelsthorpe, a retired corporate chief executive officer.  Norton Nickerson, a Tufts biology professor and a former head of the Town's Conservation Commission, brought significant professional experience to the group.   We agreed to form a non-profit land trust and to raise funds to acquire open space in Dennis.  Ed was elected president. The Boston law firm of Hale and Dorr (now WilmerHale) agreed to serve as pro bono counsel to prepare the trust documents, obtain tax-exempt status and advise DCLT on individual land purchases.  My late wife, Patricia Downing Johnston, contributed the initial $500 to start the trust.
At the outset DCLT had very little money and less name recognition.   Our first piece of land came through a donation of property on Route 6A, East Dennis  by the family of Marie Martin and Claire Sears. The second property, in Simpkins Neck also came as a donation from the heirs of Ruth Colby and Louise Eldred.  Our first substantial expansion came in 1994, when McConnell Clark donated 205 acres of salt marsh across Dr. Bottero Road from Chapin Beach to DCT.  That donation immediately moved us up the ladder of Cape Cod land trusts in terms of acreage owned.
By June of 2000, we owned 34 properties totaling 358 acres, still mostly donated.   We embarked on a series of more complex transactions involving multiple financial contributors and often collaboration with the Town of Dennis. These included:
The purchase of approximately 4 acres around the Mashantum Tennis Club in Dennis village, completed in August of 2000, $300,000 in fund-raising, the creation of a new non-development subdivision, and the approval of the plan by several town boards.

The acquisition by the Town of Dennis of 33 acres at Crowes Pasture, a part of which DCLT raised and contributed $500,000 in exchange for a conservation restriction to prevent future development in the area, completed in 2004.

The acquisition by the Town of a commercial property on the Bass River in West Dennis, the site of the current Bass River Park, as to which DCT raised and contributed $450,000 and received a conservation restriction, completed in 2007.

The acquisition by DCLT of approximately 8 acres on New Boston Road in Dennis village, the site of the original settlers' fort, with the assistance of a state "Self-help" grant, completed in 2011.

The 2013 acquisition by the Town of 11 acres at Grassy Pond, as a result of a financial collaboration forged over several years among the heirs, the Town, DCT, the Dennis Water District and the state.
In 2015, the DCLT achieved an ambitious goal – the acquisition of a conservation restriction of 39 acres of marshland which includes the Aquaculture Research Corporation, near both Chapin Beach and DCT's 200 acre marsh property.   This transaction involved financial contributions from the towns of Yarmouth and Dennis, DCT, Barnstable County, the State, The Nature Conservancy and the Cape Cod Commercial Fisherman's Alliance.
All of these more complicated transactions also involved working closely with the Compact of Cape Cod Conservation Trusts, and in particular executive director Mark Robinson.
DCLT has since conserved 13.98 acres (closing in January 2020) on Chase Garden Creek, the Tobey Woodlands, one of the oldest single family owned farms on Cape Cod.  And most recently, was given another 2.25 acres on the marsh off Simpkins Neck by Janet McSorley (October 2020).  The conservation of land along Chase Garden Creek is a conservation success story that has taken many gifts and time to achieve.  We are proud of this achievement, and all those who have contributed to the preservation of this important natural area.
The DCLT is recognized as an important contributor to land conservation efforts in Dennis, a catalyst in forging collaborative private/town/state efforts, and one of the leading non-profit land trusts on the Cape. We own 77 properties outright and hold conservation restrictions on 20 others.  In total, we have protected 635 acres in Dennis from development, an important factor in maintaining the rural seaside character of the Town.   Over the years we have had a successful annual summer fund-raising auction,  as well as on-going educational programs and walking tours through conservation properties.  We are in the process of bringing interactive information kiosks to a few of our properties to share the stories of the land conserved and cultural history in our area.  We expect to roll out more with time.
For those of you who have been supporters since our quiet beginnings in the 1980's, you undoubtedly appreciate how far we have come with your help. For those of you, who have joined DCLT more recently, stay with us as we embark on a new and exciting set of opportunities.
Note: Richard Johnston has been a Trustee of DCLT since its formation, along with Connie Bechard, Carole Bell, Beverley LeBlanc and Edmond Nickerson.  Richard served as president from 1997 through early 2015.
Your Support Matters

Since our founding in 1988, we have permanently protected over 660 acres of land in Town, and have garnered support from over a thousand members, hundreds of community volunteers, dozens of business sponsors, and an ever-growing number of students and collaborating organizations.
Please join us in our mission to protect this beloved town, today.