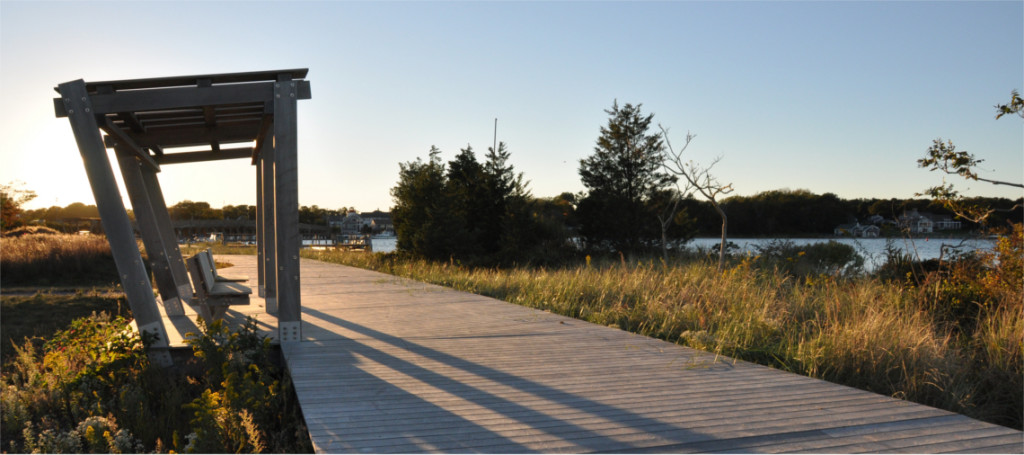 Bass River Park is a waterfront park that allows residents and visitors free and universal public access to a significant regional environmental and recreational resource, the Bass River. Primarily open space, the park also has a boardwalk, picnic and shade pavilions, bicycle racks, a kayak rental building, restrooms, and parking, thus promoting a range of low intensity water dependent uses and recreation. The park site provides direct waterfront access for recreational boating and at the same time benefits the Town of Dennis with revenue opportunities. The revenue generated is used exclusively for upkeep and maintenance of the park property and its facilities.
The park is an environmental showcase, having erased decades of commercial uses with a new, ecologically friendly open space with restored scenic views, native plants, wildlife habitat and improved water quality in Bass River. Landforms and vegetation fit into the Cape Cod landscape. Uniquely, the park design incorporated sustainable bio-retention areas, or infiltration meadows, to control and treat storm water runoff from Rt. 28 before entering the Bass River. The meadows were planted with native plants and these specialized and sometimes flowering plantings add beauty to the overall park while protecting Bass River.
In addition, with the acquisition of the park the Town of Dennis was able to incorporate three contiguous town properties, (the others being Merrill Park and the town boat ramp) that total approximately 6 acres and front the Bass River for just under a quarter of a mile. It is probably the longest stretch of continuous waterfront on Rt. 28 and certainly is the longest stretch of river waterfront in the mid-Cape area.
Pathways were created in Bass River Park that extend into the other two properties, creating a pedestrian network and providing public access from the village to its riverfront. It is a place that the Town and Dennis Conservation Trust will continue to be proud of for generations to come.
The Trust was approached by representatives of the developer of a proposed 28-unit housing development to explore negotiating the sale by him to the Town of Dennis. The 3.5-acre parcel was purchased by the Town in October 2005 for $3.4 million for the purpose of public access to the water and water related uses. The Trust raised funds to finalize its commitment for a $500,000 donation which was delivered to the Town in September 2007. Plans were developed for active and passive recreational use of the property and a Conservation Restriction was negotiated and executed at the time the funds were released, incorporating those uses.
Address: 30-44 Rt 28, West Dennis
Parking: Available
Amenities: Restrooms, kayak rental, pavilions, boardwalk, pathways, recreational boating