6/26/2023: Today the DCLT welcomed a second summer of research interns from the Dennis-Yarmouth Regional School District as a part of our Water Initiative and Science Fair Programs. The goal of the internships are to provide student-directed opportunities in environmental research, with mentorship support from DCLT staff and, this summer, from one of our teacher-collaborators from Dennis-Yarmouth Regional High School, Mr. Carl DePuy.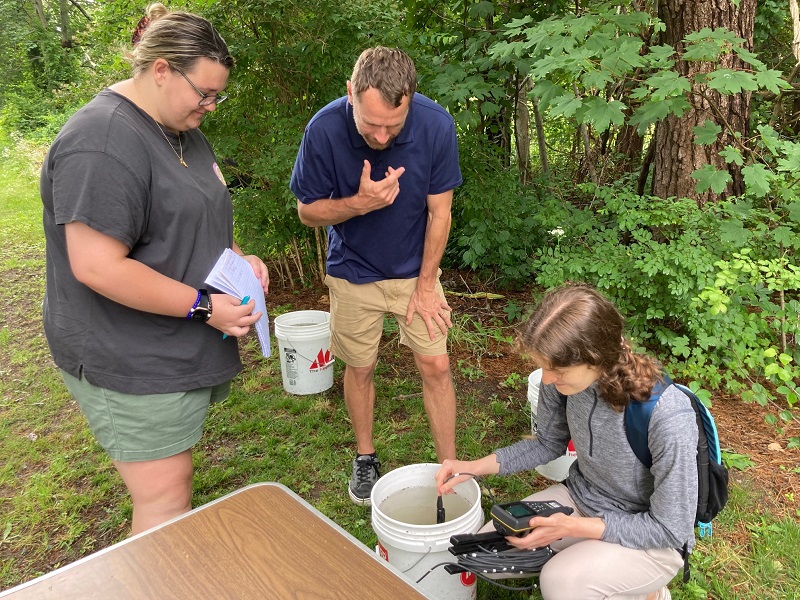 Through funding provided by anonymous donors, the DCLT is able to mentor two student research projects this summer. Last year's intern, Kayly Gleason (left in photo above), will expand upon the tick research project that landed her at the State Science Fair at MIT last May. The DCLT will also mentor a new science fair intern, Molly Gedutis (right in photo above), who hopes for similar success at the science fairs next spring. Read below to learn about DCLT's newly contracted intern, Molly, and her supervisor, Mr. DePuy (middle in photo above).
"My name is Molly Gedutis and I'm a rising senior at Dennis-Yarmouth Regional High School. I've had an interest in science for as long as I can remember, so I've always taken challenging courses in school to learn as much as possible. Last year, I took AP Environmental Science with Mr. Carl DePuy, and it sparked in me a renewed appreciation for the environment. When the opportunity to intern with DCLT came up, I eagerly took it.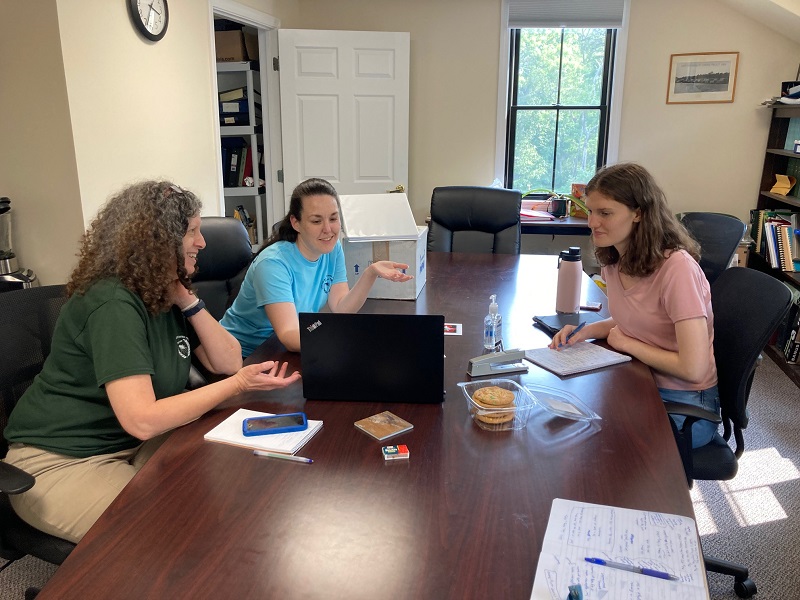 This summer I will be conducting experiments with various mosquito control products to study their efficacy and resistance to them on Cape Cod, with the help of Cape Cod Mosquito Control Program staff Gabi Sakolsky (pictured left above) and Aubrey Paolino (pictured center above). With potential outbreaks of mosquito-borne diseases in mind, I'll tie this to public health implications. In the spring, I will compete in the Massachusetts Region 5 Science Fair with my mosquito project.
As well as science, I love math and music. I play the French horn in my school's concert band and I will be the Drum Major of the DY Marching Band for the 2023 season. In my freetime I like to read, spend time with my friends, keep up my impressive 1000+ day streak in German on Duolingo, and walk my dog with my mother. In the future I hope to study either environmental science or cellular biology and pathology in college." – Molly Gedutis
About Carl DePuy: Carl grew up in Reno, NV and explored the California coast each summer with his grandmother.  Before settling down, they backpacked around the world for 8 months visiting the South Pacific Islands, New Zealand, Australia, Asia, and Europe.  He moved to Dennis in 2002 to start a family with his wife and they have two daughters and a son.  Carl is currently working as an ecology / environmental science teacher at Dennis-Yarmouth Regional High School and has been a summer intern with the Association to Preserve Cape Cod (APCC) conducting water quality monitoring, salt marsh restoration projects, and mapping plant communities for the last 13 years.. During his APCC internship in 2015, Carl wrote a research paper about salt marsh migration and sea level rise, which helped APCC and state agencies prioritize salt marsh restoration projects on Cape Cod. He also spent one year working with Wilkinson Ecological Design as an environmental consultant / project manager for ecological restoration projects.  Carl attended Huxley College of Environmental Science at Western Washington University and received his master's degree in environmental science at Green Mountain College. He wrote his thesis on salt marsh dieback within the Cape Cod National Seashore. This summer, he will be working with the DCLT helping two high school interns conduct research on mosquitoes and tick behavior. He will also assist with other projects like pond water quality monitoring, writing environmental science lesson plans, and plant management projects."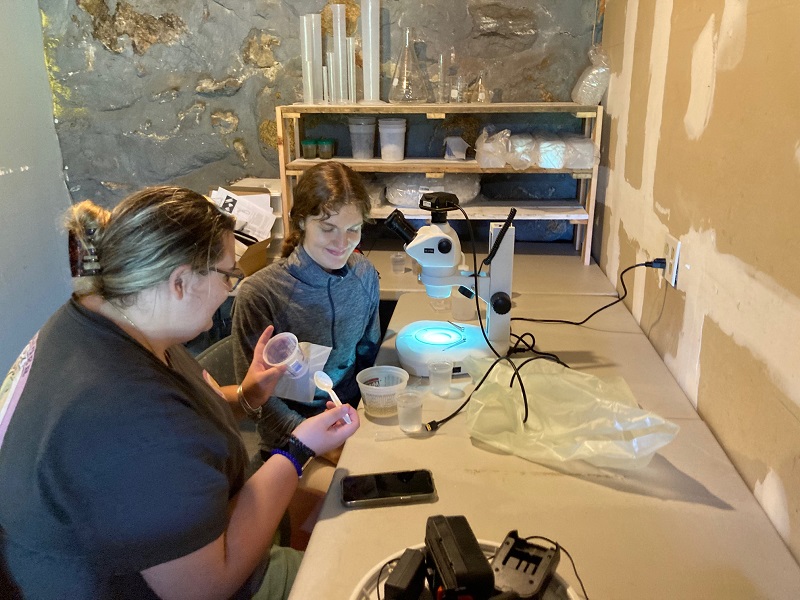 Luckily for all involved, Kayly and Molly are close school friends and have already started helping with one another's projects.
Please join us in welcoming Kayly, Molly, and Carl to the summer 2023 DCLT Team!