5/8/2023: Three young women represented Dennis-Yarmouth Regional High School (DYRHS) at the 2023 Massachusetts High School Science & Engineering Fair on May 5th at the Massachusetts Institute of Technology (MIT). They competed with other high school students from across the state who advanced from regional science fairs earlier this year. The young scientists presented their research study and findings – a project that tested the relative abundance of ticks on versus off trails, as well as their propensity to grab human clothes versus animal fur. The students designed and conducted their study under the guidance of Dr. David Fryxell, Executive Director of the Dennis Conservation Land Trust (DCLT), as part of the DCLT's Science Fair and Water Initiative Program in collaboration with DYRHS.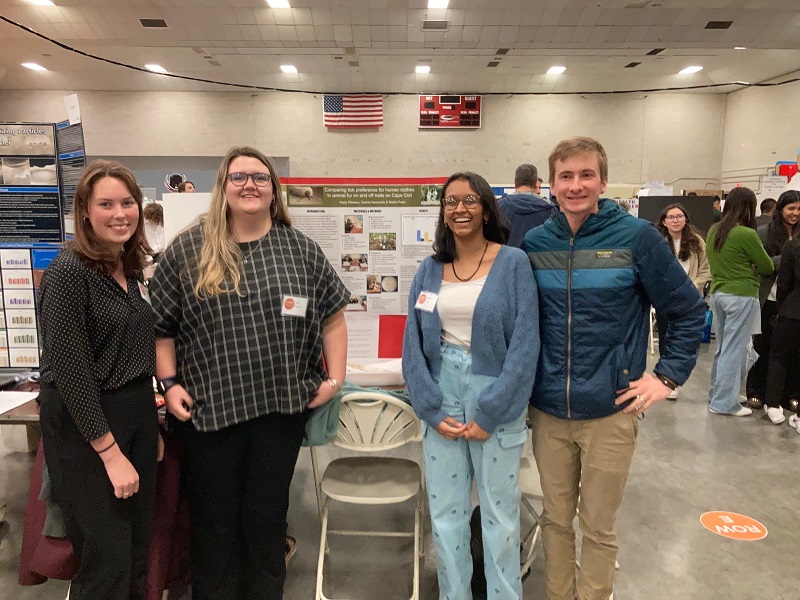 Pictured at the competition, from left to right: Sophia Newcomb, Kayly Gleason, Riddhi Patel, and David Fryxell.
Kayly Gleason, 17; Sophia Newcomb, 18; and Riddhi Patel, 18, are all seniors at DYRHS. They are the first participants in the educational activities initiatives DCLT has launched, including the new Science Fair Program with DYRHS teacher Adam Cutler. Students developed a research plan, and through summer and their early senior year, collected data with DCLT, created a project report, and competed at the Region V and then state-wide Science Fairs. Said DCLT Director Fryxell, "We hope the program stokes a passion for environmental science, and, with luck, contributes a local pipeline of science-minded environmental stewards for years to come."
The findings from the research study were not what the research team anticipated: According to their findings, larval-staged ticks are just as abundant on trails as they are off trails. Riddhi observed that, "After months of work, our results were the exact opposite of what we expected. I learned that our preconceptions can be totally inaccurate, and that science is the process to put our preconceptions to an objective test." Sophia stated, "As much as it was uncomfortable doing the tick collections in the summer heat, looking back it was a super fun experience and better than my summer service job." She did note that she is "never going to wear a Tyvek suit again, especially outside in the summer!" And year-round sampling is exactly what they proposed as a follow-up study, to understand tick prevalence when disease-transmitting nymph and adult life stages are more abundant.
But the students are heading off to college this fall. According to Project Lead Kayly, "It was a long process, but that made the outcome even more rewarding for us. I can't wait to get outside for more science projects in college next year." She is headed to the University of Maine this fall to study Ecology / Environmental Science. Sophia will study Nursing at Wheaton College; and Rhiddi will attend UMass Amherst to study Biological Sciences. Said Fryxell, "We hope the "Tick Team" is just the first in a long line of DCLT interns to represent DYRHS at Regional and State Science Fairs. More than anything, I think the students learned that science is a creative process, not a simple fact checking mission. Science, especially outdoor projects, shows students how much we have yet to discover about the natural world."
The DCLT's Science Fair and Water Initiative program is generously supported by the Cape Cod Foundation, the Bilezikian Family Foundation, and the Horizon Foundation. Special thanks are due to DYRHS Science Teacher Adam Cutler, for leading the in-school portion of the science fair program. The students further wish to acknowledge DYRHS Science Teacher Carl DePuy and Cape Cod Cooperative Extension's Entomologist, Larry Dapsis.