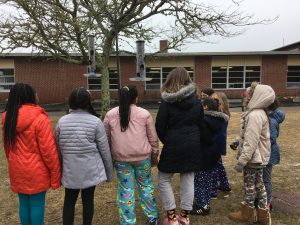 The Dennis Conservation Land Trust (DCLT) has partnered with the Nathaniel H. Wixon Innovation School in South Dennis to offer a five-session extracurricular environmental education series to 25 fourth and fifth grade students during the spring of 2019. The DCLT's program launched in February with the release of a new nature newsletter, "The Dennis Explorers," which went to all students in the school.
You can check out the Newsletter here: The_Dennis_Explorers_PDF_FINAL
The DCLT secured generous donations from the Wixon School PTO and from Tom Thompson of Wild Birds Unlimited, Inc. (South Yarmouth). Mr. Thompson supplied a bird feeding station, which DCLT's Tyler Maikath installed outside the Wixon cafeteria on March 21, where students can view the feeder birds. The feeders will be a focus of a session on bird identification in May. The PTO donated the funds to purchase nature journals for the 25 participating students.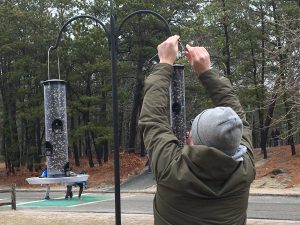 DCLT's environmental education sessions begin April 11 with a trip to a nearby vernal pool. Additional 2019 sessions focus on water quality and watershed health, forest ecology, birds, and nature journaling.
This first-ever initiative between Wixon and the DCLT was the result of a collaboration with Principal Tim Blake, teacher Michelle Dunn, the Dennis Water District, local naturalist Mary Richmond, and Dennis-Yarmouth High School science teacher and DCLT member Carl DePuy.