6/9/2023: This week the DCLT kicked off its second summer of water quality monitoring along Chase Garden Creek, an effort supported by a recent Water Quality Monitoring Grant from MassDEP. The Grant will provide sampling equipment to ensure the long-term sustainability of DCLT's monitoring activities, as well as safety equipment for DCLT's team of volunteers.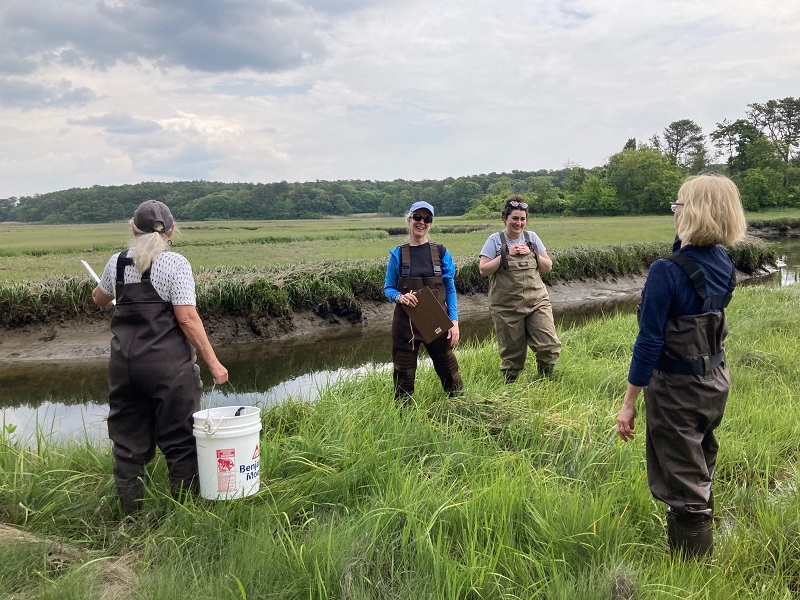 Pictured: DCLT's Creek monitoring team, from left to right, Gail Hart, Sharon Stewart, Tara Brew (DCLT's TerraCorps Member), and Ann Risso.
This year's effort is being led by three volunteers from the DCLT's Community Science Committee, Gail Hart, Sharon Stewart, and Ann Risso. They will visit sampling stations along the Creek on a biweekly basis through September to collect data that indicate the health of the Creek's water. Water samples will be processed by our partners at the Center for Coastal Studies, and then the data will be used to calculate an index of overall Creek health for comparison with other Creeks across the Cape.
The DCLT began this effort in summer 2022 with startup support from the Cape Cod Foundation, Bilezikian Family Foundation, and Cape Cod Five Foundation, after becoming aware that the Creek had not been regularly monitored in the past.
The Chase Garden Creek ecosystem includes one of the largest tracts of saltmarsh on Cape Cod, supports the ARC Shellfish Hatchery, and serves as a refuge for wildlife and outdoor recreationalists alike. The DCLT holds several legal interests around the Creek, including ~250 acres of saltmarsh habitat, plus surrounding upland properties like its newest acquisition, Tobey West.